Club History
The History behind the club since 1900
The earliest "report" I have regarding Plymouth HC is from 30 Nov 1900 when they beat Brent 10-0 - the match was mixed and their eighth win in a row. Edward Elliot Square, a prominent solicitor, was one of the founder members and was Argyle Chairman for 16 seasons.
In 1902, there is a match being played at Hartley (could be Vinstone Park, Hartley, where Corporation Grammar School's grounds were).
Plymouth HC were playing at Crownhill  and Beaconsfield
1919 - Vinstone HC and Plymouth HC amalgamated.
First game after WW1 was in 1920/21 season at Crownhill
They were playing at Peverell Park in 1926/27 until 1930/31 before moving to Roborough until 1936/37 That season they played at Plymstock's ground!
1937/38 untl the war was back at Roborough.
1946 - Amalgamated with Belair HC - now known as Plymouth Belair HC.
1947 - Hockey section formed at Plymouth Cricket Club.
1965 - Renamed Plymouth HC 
1971 - Runners-Up - Devon Knockout Cup
1972 - Runners-Up - Devon Knockout Cup
1978 - Runners-Up - West League (South Division)
1983 - Runners-Up - Devon Knockout Cup
1984 - Winners - Devon Knockout Cup
1985 - Runners-Up Devon Knockout Cup - Ladies won Devon plate
1985 - The junior section of the club was set up for boys.
1989 - A girls section for the junior club was developed
1990 - Ladies won Trelawney Division One
1992 -  Men 3rd in Premier Division
1993 - Ladies won Devon Plate
1993/94 - Plymouth HC moved to Marjon
1994 - Ladies promoted to South West Premier, Men's 2nd XI promoted to Premier 2nd XI, Ladies 3rd XI won Division ????
1997 - The junior section moved to Marjon
1998 - Ladies 3rd XI won Devon Plate
2001 - The City of Plymouth Hockey Club (Men) merged with Marjon Men's HC to be renamed 'Marjons of Plymouth HC'
2003 - Men win the Regional Premier Two to gain promotion to Premier One
2005 - Men win the West of England & South Wales Premier League to secure promotion to the national league
2009 - Men win the West of England & South Wales Premier League to regain their national league status
2010 - Men's 2nd XI win the Premier Division Three
Plymouth Marjon Hockey Club was formed in 2001 (Formerly known as Marjons of Plymouth Men's), from an amalgamation of what were arguably the two top teams in Plymouth, 'The College of St. Mark and St. John' and the 'City of Plymouth - formerly Plymouth Hockey Club'. This enabled the Club to grow and become one of the best in the South West in such a short space of time. Two years later, the respective women's clubs joined together (Plymouth & Marjon WHC) and after a steady start saw major progress on and off the pitch just like the men. In 2005 the decision was made by the Men's, Women's, Junior and Veteran clubs to form the biggest Club in Devon and Cornwall. Our combined membership now stands at over 400 players and 26 sides!
Plymouth Junior HC changed its name in 2005 to Plymouth Marjon Junior HC while continuing to run its own finances and day to day business. In 2006 the junior club merged with Plymouth Marjon HC retaining its own management structure while reporting to the senior club. In 2008/09 members voted to combine the two sections under one management structure. The growing Sunday morning and mid week groups are testament to the commitment of the volunteers who backed having a junior & youth section within the main club.
Recent highlights include a two spells for the men's 1st XI in the national league and the Women's first XI followed the men in gaining promotion back to the West Women's regional.  The club now runs 6 senior men's teams a Master (Vets) side and a badgers boys, 5 senior women's  & Vets and badger girls sides at the weekend along with our Back2Hockey programme.
Club teams also play friendly fixtures against our Vets and Youth teams. In addition Plymouth Marjon also have a number of affiliated teams playing in the Plymouth Mixed League, Saints, M&Ms, Little Saints, Barbarians, RedSkins, Past It and Marjon Eagles to which all play in one of the largest mixed summer leagues in the UK.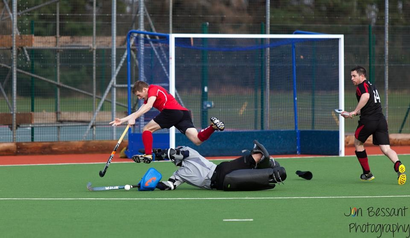 The Club is also heavily involved in the coaching and development of grass roots junior hockey. We currently run U18, U16,  U14, U12, U10s & U8s teams which compete in a range of local, county and national competitions and U18 and U16 indoor teams. The clubs thriving junior & youth section which run both midweek and on a Sunday morning. Members of the club also run the very successful Ivybridge Junior Hockey club which feeds players into Plymouth Marjon along with an extensive schools coaching programme.
M1 WSWHL PREMIER TWO WINNERS - 2003

M1 DEVON MENS CUP WINNERS - 2003

M1 WSWHL PREMIERSHIP WINNERS - 2005

M1 WSWHL PREMIERSHIP WINNERS - 2009

M2 PREMIER THREE WINNERS - 2010

M2 DEVON MENS CUP WINNERS - 2014

M3 DEVON MENS TROPHY WINNERS - 2014

M3 WSWHL SOUTHERN 2 WINNERS 2014

DEVON LADIES VETS WINNERS - 2014

W3 WCWHL TRELAWNEY 2 WINNERS - 2014

M4 WCWHL SOUTH WEST 1 WINNERS 2015

DEVON LADIES VETS WINNERS - 2016